The Evolution Scale Stop Water
Conditioner is designed as a whole house filtration & Scale reduction system. The Filtration is carried out through Activated Carbon which will reduce Taste, Odor and Chlorine. The T.A.C. media has proven itself in a variety of applications as an alternative to ion exchange softening or other conventional water treatment methods.
Reduces scale using Template Assisted Crystallization (T.A.C.)
Retains "Beneficial Minerals"
Improves taste and reduces odor caused by chlorine
Saves energy, by not using any electricity
Low Maintenance
Requires no regeneration stage, wastes no water on backwashing.
Consistent scale control performance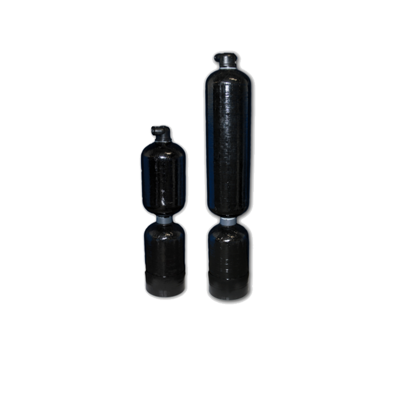 Evolution SS
Stage One: Activated Carbon
Is a form of charcoal with high adsorptive qualities. As water is brought into contact with these activated carbon particles, the taste and odor contaminants are retained in the carbon. This results to good tasting, odor free water. Activated Carbon has also been proven effective in the reduction of chlorine and inorganics such as T.C.E. (Trichloroethylene).
Stage Two: Template Assisted Crystalization (TAC)
Atomic lever templates on the surface of small specially treated polymer spheres transform dissolved hardness (CaCO3) to a crystalline form. The Crystals are relatively insoluble, effetely isolating the CaCO3 from the water chemistry and anything the water contacts.
THIS IS NOT A WATER SOFTENER... it is a water treatment system
What is the difference? A water softener removes hard water minerals and replaces them with sodium or potassium via ion exchange. The Evolution SS system uses a "Physical water treatment" it does not extract or sequester the water hardness (Calcium & Magnesium). Evolution SS influences the crystal structures of these minerals. T.A.C. neither adds chemicals nor removes minerals from the water. Rather than attempting to prevent the natural tendency of hard water to form scale T.A.C. treatment actually promotes and redirects scale formation in such a manner that the scale remains suspended in the water rather than forming on surfaces within the water system.
How a Prevention System Works
The Evolution SS uses a patented Template Assisted Crystallization Media (T.A.C.) which influences the atomic structure of the water using a physical water treatment. . Physical water treatment systems (PWT) are alternative ways to treat water in order to prevent the damage caused by hard water scale. Atomic level particles on the surface of the TAC media act as catalysts and reduce the ability of water molecules to prevent calcium, magnesium and bicarbonate ions from coming together to form crystals of calcium and magnesium scale. The advantages of these technologies are that they help the environment. They do not include a salt backwash or discharge into the wastewater systems. Among the physical water treatment systems, template assisted crystallization (TAC) excels in scale prevention and meets even the most stringent environmental standards.
Limitations of Evolution SS Systems
In some cases the Evolution SS system may not be the solution to your water treatment needs. Private well's should always be tested to determine what (if any) water treatment is necessary. In cases of extremely hard water a conventional water softener or an Eliminator water conditioner maybe a better water treatment solution for your needs. Please consult a Water Tec treatment specialist for best results.